Welcome
to the home of Energy Freedom Solutions™ for the Northern Rivers
Light Touch Solar & Electrical
Quality solar panels and batteries
Energy Freedom Solutions™ for the Northern Rivers
Now Installing
We are proud to be your local Northern Rivers Tesla Powerwall Certified Installer. Find out more about the Powerwall 2 here.
Our Signature Solar System is Yours at a great price for a limited time
Highest Quality
Local Experience
Based in Byron Bay, NSW, our team leads the way in professional installation of the highest quality solar panels and equipment and after-care support you will love. Benefit from our combined 30 years experience in electrical, engineering and solar design. Proudly installing Clean Energy Council accredited solar in the Northern Rivers since 2002.
Lower your electricity bills and start shining with our energy freedom solutions™. Solar power and battery solutions for home and business with solar finance available. Our team of experienced Northern Rivers electricians will take care of all your electrical needs including new home wiring, meter board upgrades, lighting and much more – we've got you covered.
Light Touch Solar & Electrical service the Northern Rivers including Byron Bay, Brunswick Heads, Mullumbimby, Murwillumbah, Tweed Heads, Federal, Bangalow, Ballina, Lennox Head & Lismore.
Who we are
Business owners Tim and Alice live in Lennox Head and operate from the Light Touch Solar & Battery Showroom in the Byron Industrial Estate. They believe in giving the power back to homes and businesses and building resilient communities. Our team of solar installers, electricians & customer support specialists are a brilliant blend of locals whom you can read more about here.
We are extremely happy to recommend Light Touch Solar & Electrical for installation of solar power. We thoroughly compared 3 installers & their product offering realising there was a great difference of overall quality and attention to detail with service.  We chose Light Touch as the products they offered are superior by comparison as they only select from the green technology and high quality products. We live near Byron and felt it important to go for a local business because we value local business and the follow on of service if needed. Above all, this small business is totally reliable as everything Tim said would be done has been done without any issues. I have already recommended them to a friend & will be happy to recommend to others in the future.
Teena Wright
I chose Light Touch Solar & Electrical to design and install a 30kW solar hybrid battery system on my commercial premise in Byron. Tim and Mark are very polite and helpful. I was impressed how they were always available, giving a lot of attention all the way through the project. I recommend them to anyone looking for an easy and hassle free solar install.
Rick Hultgren
The best part is the after-sales support. They are very responsive. Tim and Mark have been fantastic in installing the whole system really thoroughly and very well, it looks beautiful – we have had comments from people admiring how nice it is. The service is wonderful. They've put a very, very good system together.
Rudiger Wasser
Grid Connect Solar New to solar? This is a great place to start. Lower your electricity bills; power your home and hot water directly from the sun. Ideal for home and business; wipe out your daytime electricity consumption costs and sell excess solar to the grid. Latest technology quality solar panels, advanced string inverters and specialists in micro-inverter technology. Ready when you are to expand to battery storage.
Grid Connect with Batteries Generate and store your own solar energy. Use renewable energy 24 hours a day. Be protected from blackouts and rising energy costs and reduce reliance on the grid. Quality solar panels and world-leading lithium batteries. Already have a solar system? No problem. We can retrofit a battery solution to your existing system.
Off Grid Living Enjoy complete energy independence for your home, business or cabin. Can be more cost-effective than a new connection to the grid. Engineered design, high solar panel efficiency, best inverters and latest technology in batteries; select from clean sodium ion or world-leading lithium batteries. Advanced energy efficiency design and advice and system monitoring.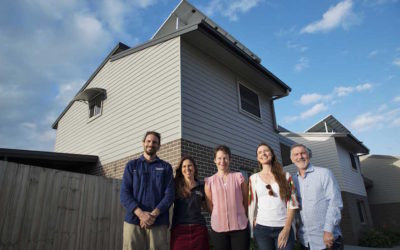 Pictured left to right: Tim Hodgson - Light Touch Solar & Electrical, Sandi Middleton - Enova Community, Fiona McConnell - North Coast Community Housing, Alice Moffett - Light Touch Solar & Electrical, Tony Pfeiffer – Enova Community Light Touch Solar & Electrical are...
read more